1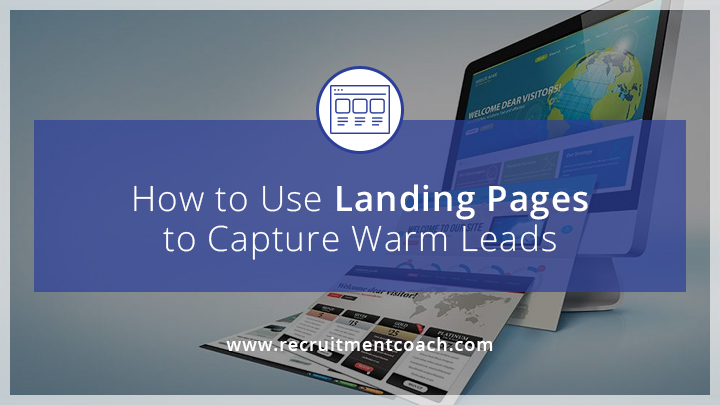 How to Use Landing Pages to Capture Warm Leads
Building a permission-based email list is the foundation stone that all your inbound marketing activities are built upon. Therefore, capturing your prospects' contact information, especially their email address, is a critically important step in your marketing funnel. But what is the best way to do this? Whilst there are other options, one of the most popular and effective methods is to create a landing page.
What is a landing page?
A landing page, sometimes called a lead capture page or squeeze page, is a stand-alone webpage where you send targeted traffic. In other words, you want visitors to "land" on this page.
Landing pages are designed to achieve one key objective: to capture your prospect's contact details and get permission to add them to your marketing list, so you can follow up with them by email, phone or possibly even by text message.
Unlike many other types of webpages, the success of your landing page can be easily quantified by tracking the conversion rate, which is the percentage of unique visitors who complete the opt-in form.
1. Never forget your #1 goal: Capture your prospect's contact info!
This is crucial. Your landing page should be designed with the sole focus of capturing your prospect's contact information. You may have other, broader aims as part of your overall marketing strategy but this is not the time to focus on these, your landing page is there to capture your prospect's contact details.
2. Remove anything that distracts from achieving the goal.
When constructing your landing page it is important that you only have on it what is absolutely necessary to help persuade your target to give you their contact details. Anything else is unnecessary and will only distract your audience and reduce your conversion rate. For this reason, landing pages typically have reduced navigation options. In fact, many marketers remove navigation links completely, so the prospect has only one decision to make: whether or not to opt-in.
Here's an example Landing Page from LinkedIn. Notice that all navigation links at the top of the page have been removed, apart from the logo which is a hyperlink and the "contact us" button.​
3. Have an attention grabbing headline.
The headline of your landing page will be the first thing that your prospect's eyes are drawn to so it is essential that it grabs their attention and makes them want to stay on the page.
Here's an example landing page from Bullhorn. Notice the prominent headline. This layout is a classic b2b landing page format popularized by HubSpot.​
4. Have an image of your lead magnet so they can see what they will be getting.
Working in combination with your attention grabbing headline should be an attention grabbing image that shows your prospect what they will get. This could be a picture of your special report, case study etc. When prospects can see a three dimensional image of your lead magnet, it makes your offer more tangible and increases their desire to obtain it.
Here's an example landing page from one of my clients, Quorum People. They've done an excellent job - notice the beautifully designed eBook cover.​
5. Tell them the benefits they will get in bullet point form.
People do not give away their email addresses to just anyone or any business. You need to give them reasons. A good way of doing this is to give them a list of three to five benefits that are easy to read in bullet form. Important: Do NOT list the benefits of your service, only the benefits of your lead magnet. Concentrate on selling your lead magnet now, and you'll have multiple chances to sell them your service later, once they've joined your list.
6. Lead capture form: This should be easily visible and simple to complete.
A lead capture form should be easy to see and easy to complete as it is here where your prospects will give you their email address and other contact details. For it to be as seamless and as effective as possible, you should only ask for the contact details that you actually need. In general, the more information you ask for, the fewer people will complete the form. You want to strike a balance between maximising your conversion, and asking some pre-qualifying questions to increase the quality of those leads.
Here's an example lead magnet from another one of my clients, Search Craft. What I like about their opt-in form is they use a field "My role" which gives three options: hiring manager, HR professional or candidate. That way, they can segment their list and tailor their follow-up accordingly.​
7. A/B split testing: Test different landing pages to see what converts best.
Testing allows you to optimize your conversion rate and gain more leads for the same advertising budget, which reduces your cost per lead. Ideally, you'll design variations of your landing page – for example two alternative headlines – and then drive traffic to both pages equally to compare which page generated more leads. Such testing can be done on an ongoing basis, tweaking designs to ensure your landing page is as effective as it can be.
8. Connect to Your CRM / database / eMail marketing program.
Connecting your landing page to your CRM, database or email marketing platform is essential. This ensures that you don't have to enter data manually which will save a huge amount of time. It also means that your leads can enter the marketing funnel seamlessly and you can automate the whole follow-up process if you wish.
3 Ways to Build Your Landing Page
There are basically 3 ways to build your Landing Page:

Use a WordPress theme or plug-in designed for this purpose
Outsource to a developer who can build you a custom landing page
Save time/money by using a template
The shortcut to creating professional looking landing pages is to use the 'Drag and Drop' templates from Leadpages. That's the software I use to create most of my landing pages and I love it. It's really easy to use for a "non-techie" like me.
Go ahead and check it out here with my affiliate link. If you don't want me to earn a few bucks commission, you can search Google for Leadpages. The price is the same either way.
Go ahead and build your first landing page and you'll be well on your way to capturing a steady flow of warm leads for your business. Then all you'll need is a source of targeted traffic, which I'll cover in a separate article.