Why We Love Retained Search (And You Should Too!)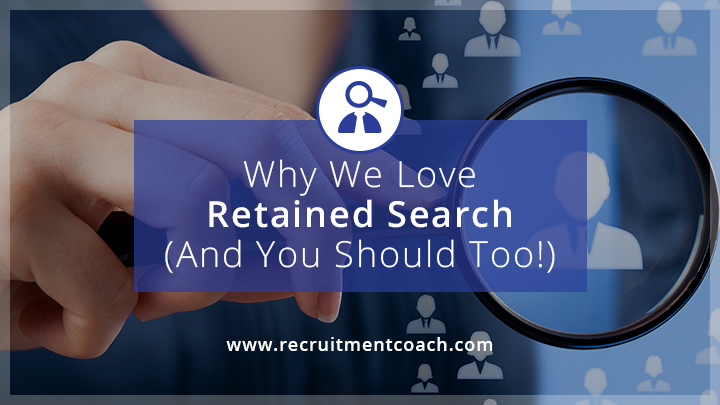 What percentage of your business is contingency, versus retained search?

If you answered "all" or "mostly contingency" then you're missing out. Because for permanent, mid to senior level positions then there's no reason you shouldn't receive part of your fee up front.
It always surprizes me how few recruiters pitch for a retainer. Usually it's due to either a lack of awareness ("I never thought about it before"), a limiting belief ("I don't think my clients would agree") and/or lack of training ("I've never been taught how to do it").
That's a shame because for the recruiters who have the skills and confidence to win retained search assignments, the benefits are substantial:
A retainer is the highest form of client commitment, and sends a clear signal that they're serious about filling the position.
More commitment usually leads to improved communication and co-operation throughout the placement process.  Many of the roadblocks that contingency recruiters come up against are removed.
Your client works with you exclusively, so you eliminate the competition.
Your chances of filling the job increase dramatically, so you'll make more placements.
More placements equal increased billings, so you make more money for the same (or less) effort.
You avoid wasting time on dead-end searches, so you experience less frustration.
Your clients perceive you as a true "consultant" rather than just a salesperson, so you get treated with more respect.
Your clients are happy to receive and return your calls, so you waste less time chasing them for feedback.
Your clients are receptive to your advice, so you gain greater influence over the hiring process.  That often translates into faster decisions and fewer deal-breakers.
You can predict your pipeline with greater accuracy, achieve improved cash-flow, and feel a greater sense of security.
Because you're not in a "race" against other agencies, you can do the job properly – and enjoy greater job satisfaction. You have an opportunity to add real value to the recruitment process and feel an increased sense of pride in what you do.
When you re-position yourself as a retained search consultant / firm, you gain prestige with both clients and candidates. The assumption is that if you're a retained recruiter, you must be good.
Once your clients are accustomed to working with you this way, you can win repeat business on a retained basis, again and again.
The more retained business you win, the more retained opportunities you will attract. Thus begins a "Virtuous Cycle" of success which snowballs and gains momentum.
Best of all, you are assured of getting paid. Even if the client cancels the order before you complete the assignment — for example due to a merger, acquisition or internal re-structure — then at least you will have received 1/3 (or more) of your fee, which is better than nothing!
Retained business can be extremely rewarding, not just financially but also in terms of achieving self-actualization. If you desire to serve your clients at the highest level, and receive the maximum client commitment in return, then resolve to increase percentage of retained work you win – starting now.
---
Let Mark train your team! He offers a course called "Secrets of Selling Retained Assignments." A few of his clients have won their first retainer within 7 days of attending the course! For a free course outline, with no obligation, please contact us.